"Quick now, here, now, always – A condition of complete simplicity (Costing not less than everything) And all shall be well and All manner of thing shall be well."
T.S. Eliot
mindfulness courses and events
New for Spring 2022 

Announcing a New Course at
Please see below details of a new 'in-person' mindfulness course…
This is an eight-week course, based on a blending of Mindfulness-Based Stress Reduction & Mindfulness-Based Cognitive Therapy.
Here are the dates for your diary:
Introductory session Thursday 3rd March 2022 6:30 pm to 8:45 pm
Then 8 further Thursdays on the following dates 6:30 pm to 8:45 pm; 
Sessions 1, 2 & 3: between March 17th – 31st
Session 4: April 14th
Sessions 5 & 6: May 19th & 26th
Sessions 7 & 8: June 9th & 16th
Silent Day: Sunday 5th June 10am to 4pm
No classes on the following dates to allow time for contemplation and practice before the next session;
10th March
7th, 21st & 28th April
5th & 12th May
2nd June
Course investment – £230
This course is very accessible to those of you who may not have any prior experience or those who have experience – all are welcome.
The location is a very spacious yoga studio, in the heart of Saffron Walden, with a spaced lay-out in keeping with the care, we need to take with regards Covid.
The dates are arranged to allow time to digest and practice the course material.
Once an eight-week course has been attended there is available an ongoing practice group and retreats from time to time.
Spaces are limited, so please do apply in good time if you wish to attend.
If you have friends who might be interested, and would like to ask me any questions, please do pass this on.
Please contact me here: becomingmindful@mokshalayoga.co.uk
To find out more about Mokshala and my 8-week course, please see my bespoke page on their website: http://www.mokshalayoga.co.uk/mindfulness.html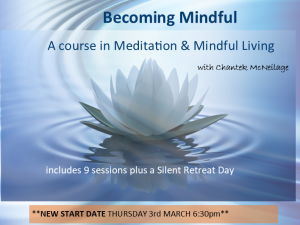 This mindfulness course will support you to develop, through simple accessible practices, the skills to gently re-focus your attention away from unhelpful behaviours, thoughts, reactive habits, self-doubts, judgements, and inner criticisms that can so easily hamper your quality of life and well-being.
By becoming mindful, we can ease, soften, reduce our stress levels and our lives can begin to fully flourish.
Please contact Chantek to book this event: becomingmindful@mokshalayoga.co.uk
~~~~~~~~~~~~~~~~~~~~~~~~~~~~~~~~~~~~
Time to Be
A 3-Day Silent Mindfulness Retreat
28th April ~ 1st May 2022
With: Chantek McNeilage & Barbara Hussong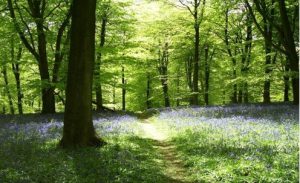 An opportunity for anyone who has completed an 8-week Mindfulness course to immerse yourself in mindfulness practice on a residential retreat.
When: Thursday 28th April ~ Sunday 1st May 2022
Arrival: from 4 pm, with supper at 6:00 pm ~ Ending after Sunday lunch.
Where: Emerson College, Forest Row, East Sussex, RH18 5JX
A beautiful, leafy campus with tranquil surroundings situated in extended grounds on the outskirts of Forest Row, East Sussex. We will have a separate house for our group room and a separate dining room. The wholesome food is vegetarian with vegan and gluten free options. The accommodation is in single rooms with a basin, shared toilets and showers. The Centre is 10-minutes by taxi from East Grinstead Station, which is one hour from London Victoria or London Bridge Station.
Fee: £365 (includes teaching, accommodation and meals; some concessions possible)
For those who already have experience of mindfulness or retreats, if you would like to apply or know more, please do contact Chantek.
~~~~~~~~~~~~~~~~~~~~~~~~~~~~~~~~~~~
Online and In-Person Courses:-
Mindfulness-Based Stress Reduction
Mindfulness-Based Cognitive Therapy for Life
Finding Peace in a Frantic World
Retreats
Mindfulness in Nature
The Full 8-Week Course on Zoom, 1-2-1 and Groups

(please check here to see when the 'in person' courses re-start)
The fee for the course, plus workbook and recordings will vary according to either one-to-one or a group.
There are concessionary places available if needed.
You will be eligible to attend any Silent Days and also participate in the fortnightly free (donation to your local Food Bank suggested) practice sessions.
Please contact Chantek to discuss any queries you may have.
Mindfulness-Based Compassionate Living 2022
This course invites you to deepen into the heart of mindfulness, kindness and compassion.  Pease see the link page for more details.
Do get in touch if you have interest in this course so that I can put you on a waiting list.
This course is available to those who have already attended an 8-week mindfulness course either with myself or another or an established practice.
Mindfulness Practice Support Online: Practice Group runs Fortnightly via Zoom
Due to all the challenges we face with the current coronavirus the monthly practice group will now be offered fortnightly online on Tuesday evenings.  You are invited to attend as and when you wish.
Anyone who has done one of my mindfulness course or a mindfulness course elsewhere is welcome to join.
Please do get in touch if you would like to be on the mailing list. 
The fortnightly practice group will run on a Tuesday evening from 7.00pm-7.45pm via Zoom. 
The usual fee for the evening has been waived with the invitation, if you wish, to pop an extra something in the food bank collection bin at your local supermarket.
If you would like more information please do contact me via email for more details. 
"I look forward to being with you, and being together supporting our mindfulness practice."
Distance Learning – via Zoom
Chantek runs the Mindfulness Distance Learning Courses for the Mindfulness Network – please contact the network for details of these courses which have been running worldwide for many years.
Please Note

:
There will be concessionary places on Chantek's courses,
please get in touch if you feel you would like to attend a course but have limited funds.
Mindfulness-Based Compassionate Living
~ course coming in 2022 ~ 
Supervision
If you are teaching or delivering mindfulness-based courses Chantek offers professional supervision and is registered as a supervisor with the Mindfulness Network.
If you are interested or have more enquiries about the courses, future dates or would like to be on a waiting list please contact Chantek using the form below.
Chantek Mary McNeilage
Listed with BAMBA for Mindfulness-Based Teachers.
Mobile: 07970 181775 – (preferred)
Telephone UK: 01799 527084
Email: chantekmary@live.co.uk 
I look forward to hearing from you. 
With warm wishes ~ Chantek
Contact form for enquiries
Please complete the maths question on the form for added security.
Chantek provides becoming mindful mindfulness courses and retreats for participants throughout East Anglia. Whether you live in Cambridge, London, Royston, Saffron Walden, Bishop's Stortford, Stansted, Haverhill or London – Please do get in touch.